Adelaide Alsop Robineau (1865-1929) was an American ceramic artist of the highest order. Starting her life in clay by purchasing pre-constructed forms to paint glazes on, she eventually moved to become a rockstar in the American Arts and Craft movement. She began making forms, decorating, glazing, and firing all her own ware. She even went on to develop and produce a ceramic arts magazine called, Keramic Studio.
It was during the World's Fair of 1910 that Adelaide received monumental recognition. She put herself up against many porcelain factories including Wedgewood. It was here that this single woman won grand prize for her piece titled, "The Scarab Vase" (also known as "Apotheosis of the Toiler") beating out many established porcelain factories. It is reported Adelaide worked around 1000 hours on this single piece.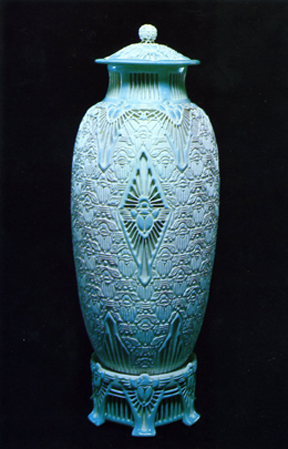 "The scarab beetle, the major motif of the vase, was sacred to the ancient Egyptians as a symbol of the cycle of day and night, life and death, and immortality. Also known as the dung beetle, the scarab pushes a ball of dung to close the entrance to its chamber each night. As it emerges for the day, the ball of dung is pushed aside. This came to be a symbol of the emergence of the sun from the horizon as it rises each morning, and the setting of the sun as it disappears 'into the earth' each night. The title, 'The Apotheosis of the Toiler', refers to all the unknown craftsmen of the world who labor on their craft, just as she had done in carving this piece. In a sense, her aim with this piece was to place the craftsman (or woman) in his (or her) proper place: to elevate crafts people perhaps not to the status of a god, but to at least an equal to that of the artist."1
It could be argued that without her work and the accolades it received, we would not have the strong pottery/ceramic tradition in America that we enjoy today.
References:
1. Barbara Nicholson Bell, syracusethenandnow.org/Nghbrhds/Strathmore/AARobineau.htm
Images Sources:
-www.jayneshatzpottery.com/MIDEASTCERAMICS.html